Bronze Dragon: Conquest of Infinity
Way back in 1985, we released Bronze Dragon for the Apple ][+. Now that game was just text ---
no graphics
--- but had a certain appeal. Heck, we sold around 1,000 copies back then by running an ad in Computer Gaming World (back then you could afford to run an ad in CGW). Recently, I came upon the wonderful world of Apple Emulators and we here at CrossCut thought, "Hey, we could play the old BD once again. Wouldn't that be cool? And other people could play it too!" So....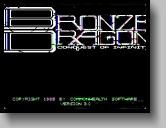 CrossCut Games, Inc. hereby and forthwith releases the 1985 version of Bronze Dragon: Conquest of Infinity for the Apple II+/IIe/IIc computer to the Public Domain.
Yep. No charge. No fuss. No mess. You can have it right here and now for FREE.
O/S: Windows 3.x/95/98/NT/ME/2000
CPU: Pentium 90 Mhz
Memory: 16Mb RAM
Available Hard-Disk Space: 8Mb
Audio System: 100% Windows Compatible Sound Card
Video System: 8 bit color or better
Input Devices: Mouse
To run BD under Windows, you need an Apple emulator. Just unzip it into any directory and run. When you see the "calibrate" dialog box, give it a few minutes.
AppleWin: an Apple //e Emulator for Windows (396Kb)
Here's the 1985 Apple version of Bronze Dragon and the add on disk, The Twisted Speare. Use the disk images with the emulator above.
Bronze Dragon: Conquest of Infinity (174Kb)
Dragon Side II: The Twisted Speare (121Kb)
If you want to know all about the game (and how to play), just download these manuals. They're in HTML so they should work with any browser.
Bronze Dragon Manual (52Kb)
Dragon Side II Manual (34Kb)